With a head office in Wagga Wagga, NSW, we're a team of approximately 60 people spread across Australia's metropolitan, rural and regional areas working collaboratively to improve the profitability, productivity, competitiveness and sustainability of our rural industries.
We know that delivering results starts with listening to our industries and understanding their needs. Together we prioritise investment opportunities, interpret results, understand implications and test the outcomes on farms to create tangible value for our levy payers.
We share a passionate commitment to our values: we are connected, positive, real and future thinking.
To view our organisation structure, please click here .
Current opportunities
We're committed to attracting the best people we can to help us achieve our purpose.
We offer a diverse range of agricultural jobs in research, communications, events management, program management, finance, human resources, IT and administration.
You'll get a chance to work with a team of passionate people in an environment which values professional development and growth, committed to the principles of equal employment opportunities.
If you are passionate about the agricultural sector, and the people who drive our rural industries, we welcome your application. Please see our latest AgriFutures Australia job vacancies below and direct any enquires to the contact listed in the advertisement.
Vacancies
Coordinator Positions
Due to internal promotions, there are currently a number of Coordinator positions available. The Coordinators will be required to provide a high level of collaborative, administrative and logistical support to the Managers working on specialised programs within AgriFutures Australia. Because no two days are ever the same, the ideal candidates must have a 'can do' attitude, be adaptable, have an excellent time management and prioritisation skills and an ability to deliver and manage multiple tasks within tight timeframes.
To apply now or find out more about the differences in responsibilities and skillsets between the positions, contact Emily Picciolo at Spinifex Recruiting on 02 6931 9070, or click the link below.
Our values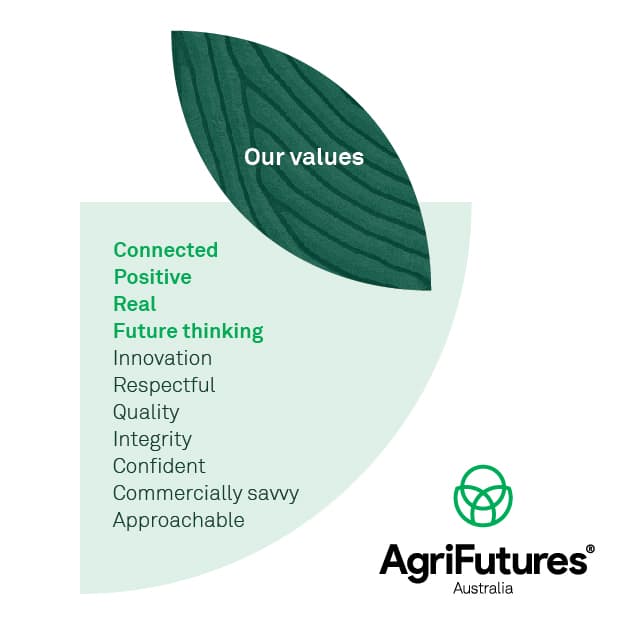 Enterprise Agreement
In February 2022, we renewed the organisations' Enterprise Agreement 2022-25, which sets out the terms and conditions of employment. Executive staff (including the Managing Director) are employed on individual contracts.
To view our Enterprise Agreement, please click here .